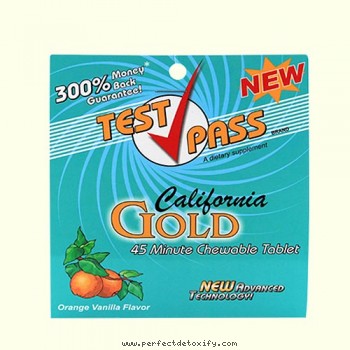 Price: ($20.99)
Description:
If you need a fast and reliable solution to pass a urine test, this chewable tablet is the way to go! With its new advanced technology, this tablet starts working after 45 minutes and keeps your urine clean for 3-5 hours. Just chew the one orange vanilla tablet with 24 ounces of water, wait 45 minutes and you are ready to provide a clean urine sample. It's backed by a 300% manufacturer's money back guarantee.
Instructions:
One hour before test time, chew the entire tablet following with 24 ounces of water. Wait 15 minutes and drink another 24 ounces of water. Wait at least 45 minutes and urinate at least 3-4 times before providing your sample.
For Best Results:
24 hours prior to your test deadline, start drinking 12 ounce glasses of water every hour. This will help flush toxins out of your urine. On test day, do not drink too much water, because your urine will be diluted.
Warning:
Avoid all toxins for at least 48 hours prior to use of this product.
All orders are billed and shipped in plain and discreet packaging. We use industry-standard efforts to ensure the confidentiality of your personal information, such as firewalls and Secure Socket Layers where appropriate.
---
To purchase products or request more information, call us at:
Copyright 2004-2023 PerfectDetoxify